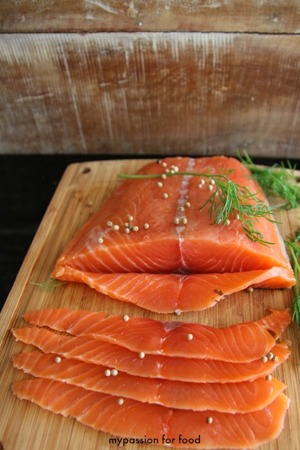 Learn the secrets of Swedish cooking and join my new workshop "Six classic Swedish dishes" in Łódź, Poland - 19/12/2015

Learn how to cook six classic Swedish dishes such as marinated salmon with mustard sauce, toast Skagen and meatballs. Enjoy a welcome drink Glögg upon arrival at charming culinary studio Book & Cook. The workshop will be held in Polish.

Check in: 14:00
Class ends: 18:00
Price: 200 PLN
Address: BOOK&COOK Studio Kulinarne
OFF Piotrkowska, ul.Piotrkowska 138/140 90-062 Łódź, Poland

Menu:
Gravlax- marinated salmon
Toast Skagen
Rom Toast
Gubbröra- Old man´s mix
Janssons frestelse
Meatballs

Welcome!
Läs hela inlägget »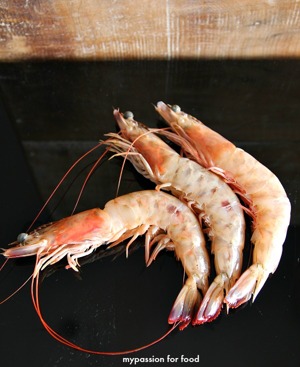 Last few days I had opportunity to eat good food at some interesting restaurants in Sao Paulo. Sometimes I forget how privilege I am to be able to live here and to have possibility to visit all those interesting places. Each restaurant has a unique interior design where you can see tendency to mix different styles and materials. Brazilian designers are very creative and they think out of the box. I really enjoy visiting new places and trying new food that normally inspire me to cook something new. At Chez Oscar I could enjoy unusual design and excellent bistro food. I ordered a beef tartare that just melted in my mouth. On Saturday I had lunch at the Italian restaurant La Grassa. The restaurant has a cozy atmosphere and they serve homemade pasta. I ordered my favorte tagliatelle with eggplants, smoke ricotta cheese and tomatoe sauce and it was as good as always. On Sunday I went to a new place Figo that was recommended by my friend Chef Patrick. I really enjoyed the interior design of this place, cozy atmosphere and very good service. The food could be better for the price we paid! Anyway I enjoyed ceviche with lechee and I am going to prepare it one day.
After some luxury days out of my kitchen, it is time to cook sea food risotto with langoustines.
I hope you will enjoy it as much as I do with a glass of white wine!

Seafood Risotto with Langoustines

Servings 4

320 g risotto rice
200 g fresh cleaned langoustine
150 g champignon mushrooms, sliced
4 sprigs parsley, chopped
10 cherry tomatoes, mix red with yellow, cut in four pieces
1 shallot onion, chopped
½ l seafood stock
1 dl white wine
oil for frying
salt and pepper
150 g butter
100 g parmesan cheese freshly grated
4 tiger shrimps for decoration

Heat olive oil in a large pan hit.Add finely chopped shallot and fry for 2 minutes. Add rice and let it cook for 1 minute.

Add white wine, keep stirring and add the seafood stock un til it covers the rice. Add cherry tomatoes, some salt and let it cook for 15 minutes, stir regularly. Add more stock after some time when you see that it has been absorbed.

Fry the mushrooms for around 10 minutes. Put aside.

Fry langoustines in olive oil on both sides for around 3-5 minutes. Quickly remove them and put it into a bowl that you should cover with foil to keep it warm.

After 15 minutes cooking, the rice should be ready. Add mushrooms, langoustines, butter and freshly grated parmesan. Stir gently until the risotto will get creamy and the parmesan has melted. Meanwhile, fry the tiger shrimps in oil for 2-3 minutes on each side.

Serve the risotto on plates and decorate with chopped parsley and tiger shrimps.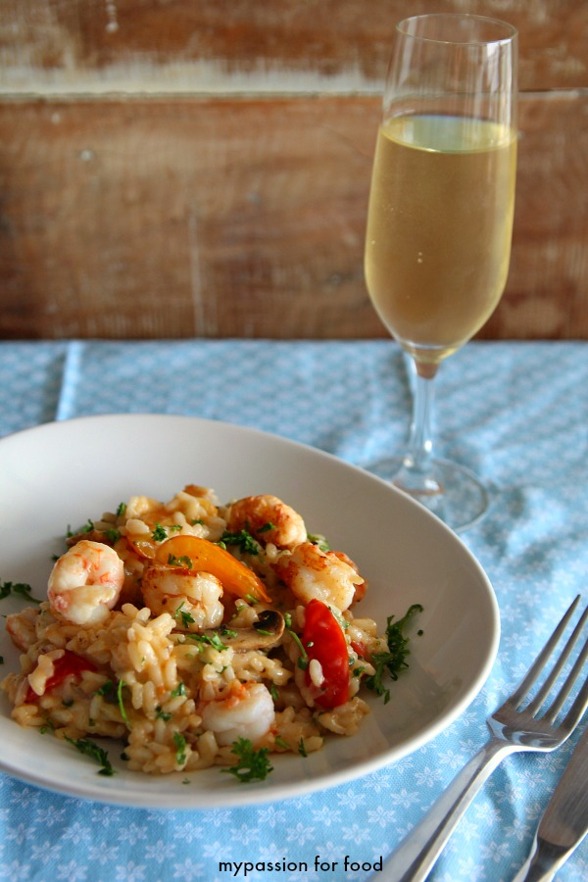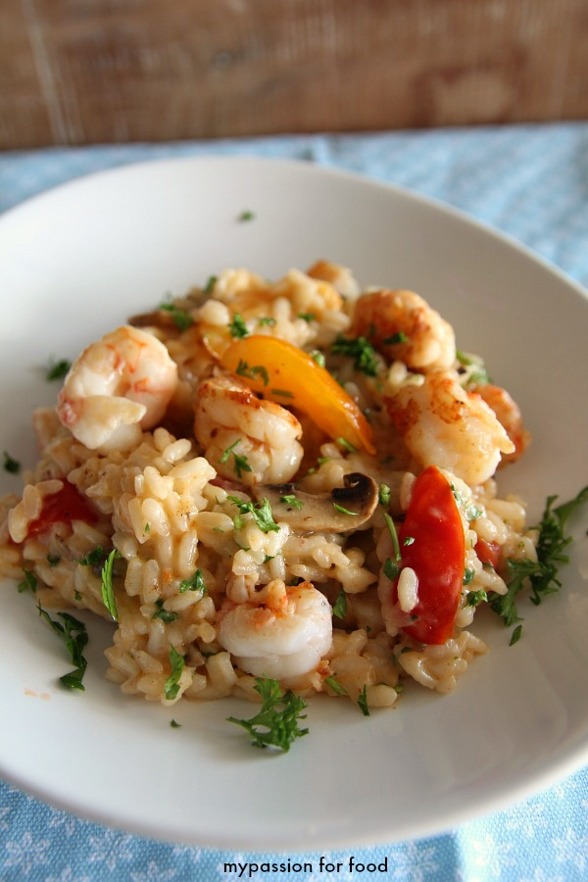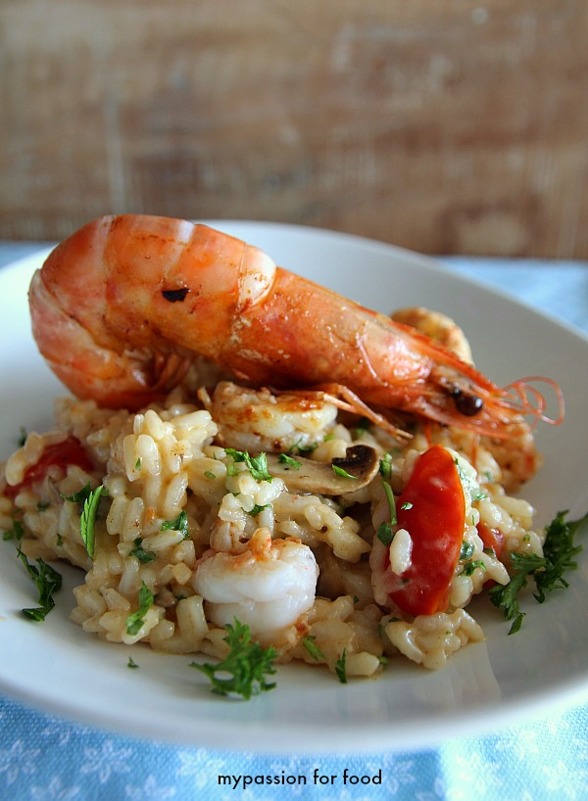 Läs hela inlägget »
Since I visited Brazil for 14 years ago I dreamed about moving here. One of the reasons was the most delicious fruits that you can get or buy here. I normally buy all my vegetables and fruit on the market in my neighborhood Moema on Sunday morning. If I run out of anything I go to the local shop Feira Nova on Av. Juriti where they do home delivery. Some days ago I bought different types of mango: Red Espadinha, Haden, Pink and Tommy. I love to eat mango with a natural yogurt for breakfast or just as a desert after a light dinner. Each mango has a unique flavor and texture. I encourage you to find your favorite type.

Mango Salad with Shrimps

Servings 6

600 g mango Tommy, cut in 1,5 cm cubes
300 g fresh or frozen cleaned shrimps
2 or 3 large cloves garlic, chopped
3 or 4 sprigs cilantro, chopped
1 tsp fresh hot chili, chopped
1 tsp fresh ginger, chopped
4-5 tbs fresh lime juice
1 heart of Iceberg lettuce
oil for frying
salt and pepper

In a large bowl, mix together lime juice, chili, cilantro and ginger. Add the shrimps and mix well.

Meanwhile peel the mangos and cut them in 1,5 cm cubes.

Fry chopped garlic in oil in a medium hot pot for 1 minute, add shrimps and fry very fast (2-3 minutes).

Mix the shrimps with mango and serve the salad on a bed of the lettuce. Garnish with cilantro.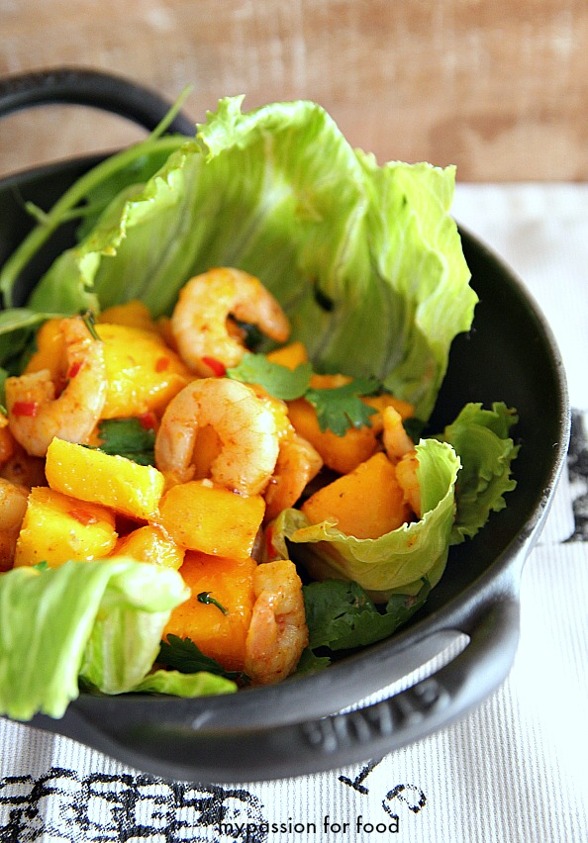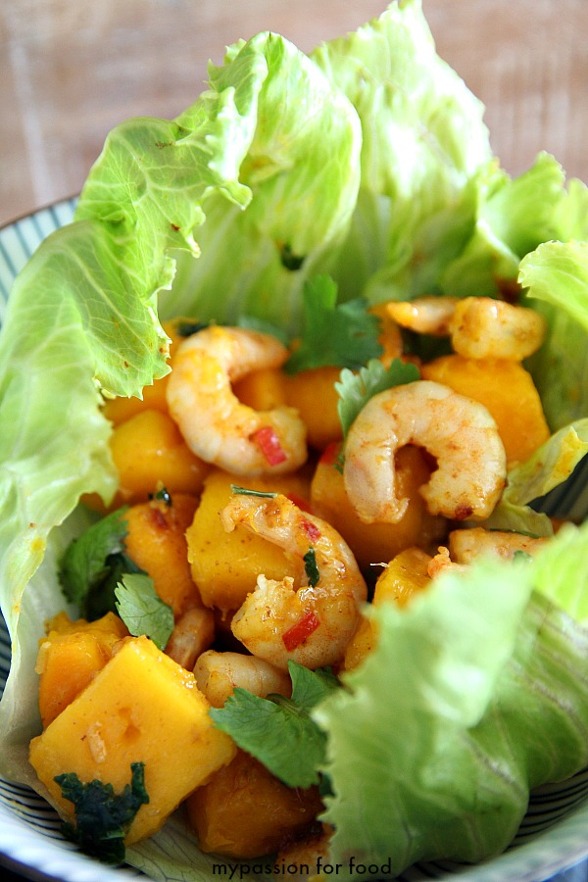 Läs hela inlägget »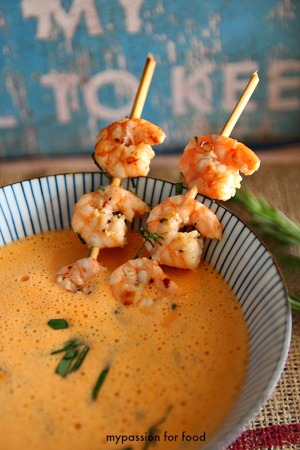 In the summer I bought a book of famous Swedish Chef Tommy Myllymäki "Myllymäki såser" (Sauces by Myllymäki). Since then I have been using the book nearly every weekend and still I have plenty recipes that I would like to try to cook. Today I prepared the seafood soup that is based on the recipe for a seafood sauce. When the sauce was ready I added more water to make a soup out of it, and then I served it with a spit with shrimps. You can also add raw shrimps or if you don't have shrimps you can use other seafood. The ingredients listed below are for the sauce, but as I mentioned, just add more water and maybe more fish bullion.

Servings 3-4 dl

Ingredients:

1 onion, sliced
1 carrot, sliced
1 tsp fennel seed
1 bay leave
2-3 cubes of fish or seafood bullion
1 tbs tomato purée
oil for frying
3 tomatoes, cut in cloves
2 dl white wine
½ + ½ dl calvados (brandy is also OK)
2 dl water
4 + 1 dl cream
3 sprigs of basilica
1 sprig of rosemary
salt
1-2 tsp maizena flour + 1-2 tsp water (or use normal white flour mixed with water)
2 tbs butter
For the soup: 300 g fresh cleaned shrimps

Fry onion, carrot, fennel, bay leave and tomato purée in oil in a medium hot pot for 3-4 minutes

Add tomatoes, whine ½ dl of calvados (or brandy), water, 4 dl cream and 2-3 cubes of fish or seafood bullion. Boil for 20 minutes

Filter and boil until 3-4 dl remains. Try the taste and add salt, bullion or more calvados (brandy) as needed. Add the flour and water mix to thicken the sauce. Whip, get to boil and taste it.

Add butter and 1 dl whipped cream when serving.

The sauce suites well with fish and seafood or chicken.The sauce works very well with chicken however you could add some extra sprigs of basilica.

If you would like to make a soup just add 2-4 dl water.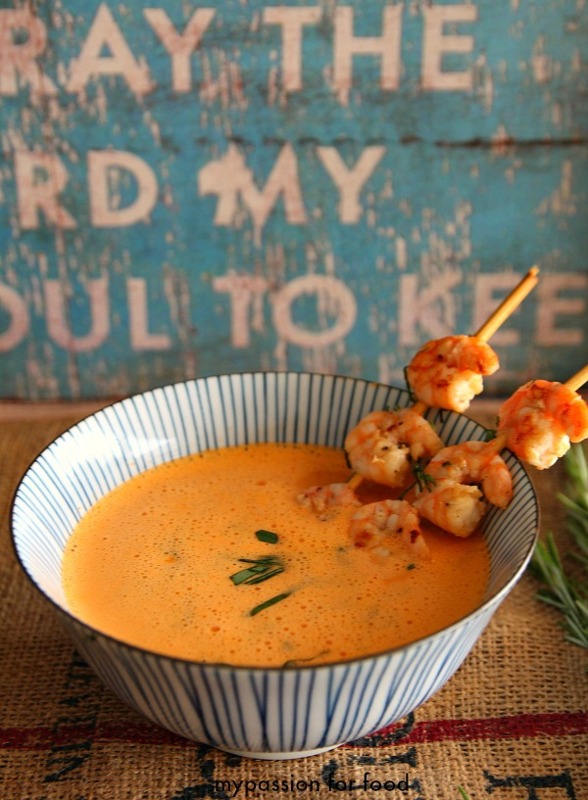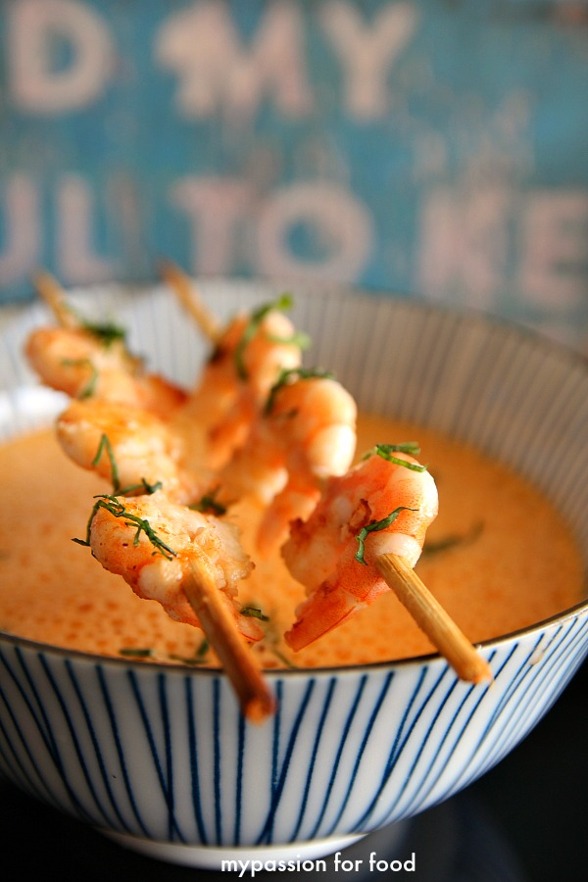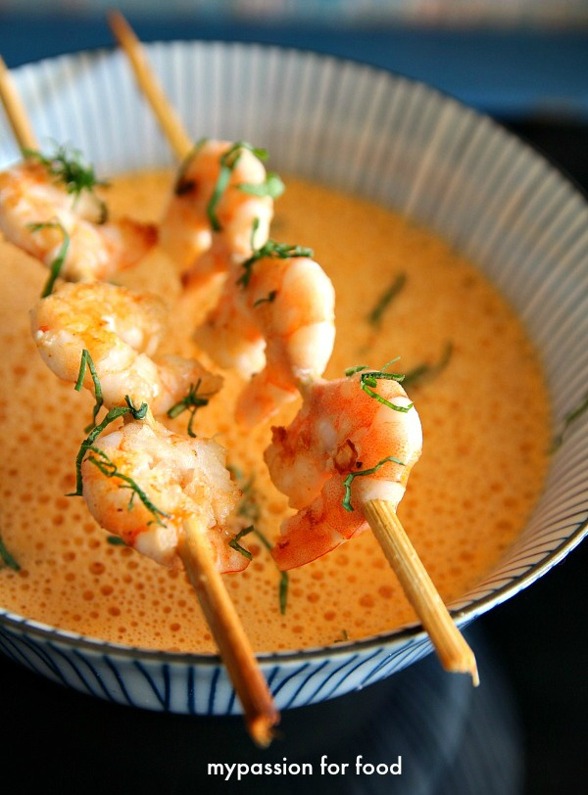 Läs hela inlägget »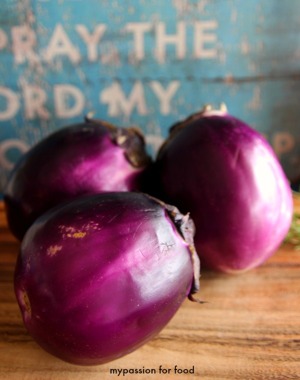 This time I prepared beautiful round eggplants. I saw them for the first time at the restaurant Au Vin when chef Patrick received them in a box. He briefly explained how he is preparing those purple beauties and since then I have been searching after them.

There are a number of different varieties of eggplants. In Europe I used to buy deep purple large oval once called "Black Bell". In Brazil you can find many different types of eggplants, some are as small as a table tennis ball, others are long, slim with light purple color. They are mostly used in Asian cooking as they have thin skin, are less bitter and much sweeter.

Vegan Stuffed Eggplant​

6 servings

3 roasted eggplants
2 medium-sized tomatoes chopped fine
1 red onion, chopped
2 tbsps canola cooking oil
2 cloves garlic chopped very fine
2 tbsps finely chopped fresh green coriander
salt and pepper to taste

Roast the eggplants in the oven at 220 C for around 1h or until they are quite soft and starting to collapse.

Cut the eggplants in half and remove out the center, leaving enough meat inside the skin so that it holds its shape.

Prepare the filling
Heat the canola oil in a medium-size nonstick skillet. Add the chopped garlic and chopped center of eggplants. Fry them around 5 minutes. Season the filling with salt and pepper.

Once the filling is cold, add the tomatoes, the chopped red onion, the chopped fresh coriander and mix well. Season with salt and pepper.

The filling is then stuffed back into the shells. Decorate with fresh coriander and sprinkle some oil of olives.
Läs hela inlägget »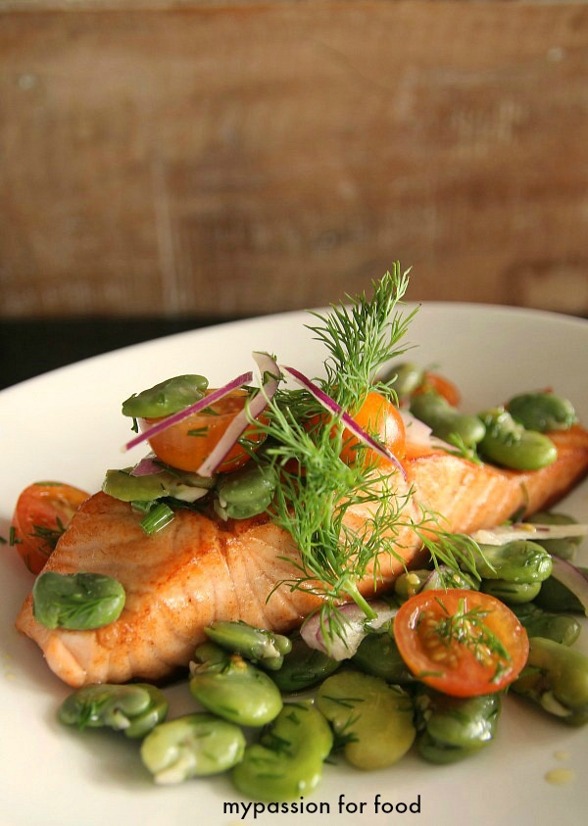 On Sunday market in Moema, Sao Paulo I found broad beans for the first time since I moved here for two years ago. I got really excited as those green sweet beauties mean a lot to me! My grandmother used to buy them nearly every day during a short summer season in Poland. She used to cook them in salty water for 5-10 minutes, depending on the size of the beans. Once they were cold enough to eat she served them in a big bowl. We used to pop them out of their skins and then eat while watching TV.
Today I prepared broad bean salad and I served it together with fried salmon. I would like to dedicate this dish to my friend Chef Patrick Bragato who with humor and passion shares his knowledge about French food and his way of cooking. Since September I have been assisting him at the restaurant Au Vin and I really enjoy it a lot. I admire Patrick for his creativity, excellence and leadership. He has a clear vision what he wants, he really communicates emotion through his dishes and he is a great teacher! I have plenty to learn and I am grateful for it!

Fried Salmon with Broad Bean Salad
4 servings
800 g salmon without skin

Broad Bean Salad

500 g broad beans
12 cherry tomatoes cut in half
1 red onion slice in half moon
3 tbsp extra virgin olive oil
2 tbsp chopped fresh dill and some for decoration
½ lime, finely grated zest and juice of
sea salt

Cook the beans in boiling water for 3-5 minutes. Refresh under cold running water. When the beans are cold, pop them out of their skins.

Mix the beans together with cherry tomatoes, onion, chopped fresh dill, juice of lime and olive oil. Season with sea salt and serve on the top of fried salmon. Decorate with some dill.
Läs hela inlägget »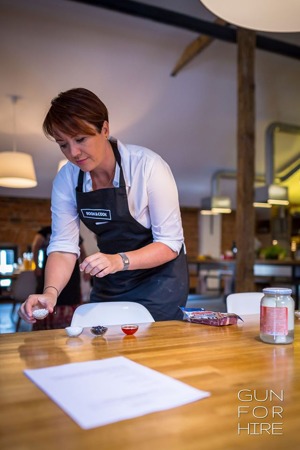 I was invited by Book&Cook Studio Kulinarne to run a workshop with the topic "Brazilian samba on the plate" in Łódź, Poland. I was really looking forward to run a workshop in my home town and in my native language as I usually run my workshops in English or Swedish. Before
I left Sao Paulo I bought some essential products like black beans, palm oil, palms hearts and dry meat that filled completely one of my suitcases. After a long journey I finally arrived in Łodź, Poland but not my precious suitcases! It took extra two days before I got everything. During the workshop we prepared Heart of Palm soup, Feijoada, Moqueca, Pudim de leite and the national Brazilian drink Caipirinha. I was surprised about how smooth everything went and how delicious food people prepared not mentioning the great Caipirinhas with lime, oranges and chili done by Przemek! Thank you Paulia and Maciej from Book&Cook for inviting me, Joanna for a great assistance during the workshop and all of you who were participating at the Brazilian cooking workshop in Łódź, Poland! Agnieszka and Konrad (GUN FOR HIRE) thank you for taking many great pictures! Some of participates asked me if I could run workshop with the topic Scandinavian food. It is very tempting and I have already some ideas just give me some time and I will come back to you. Some days ago I got a message from Adam who participated in the workshop in Łódź happily sharing his version of Feijoada! Thank you Adam for sharing it with me, it was a pleasure to meet you! I really hope to see you all soon!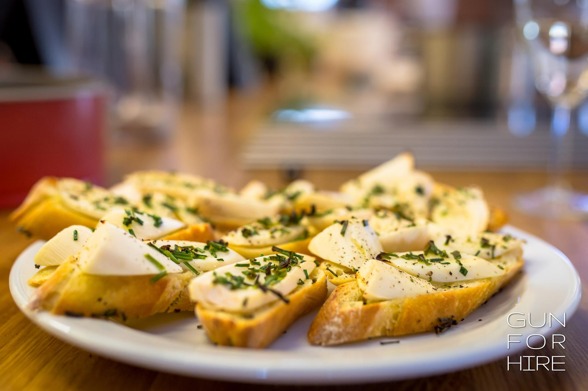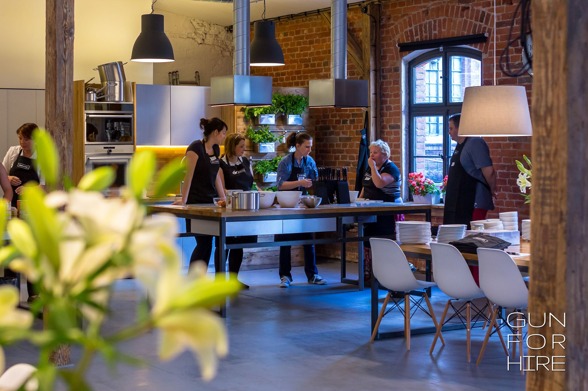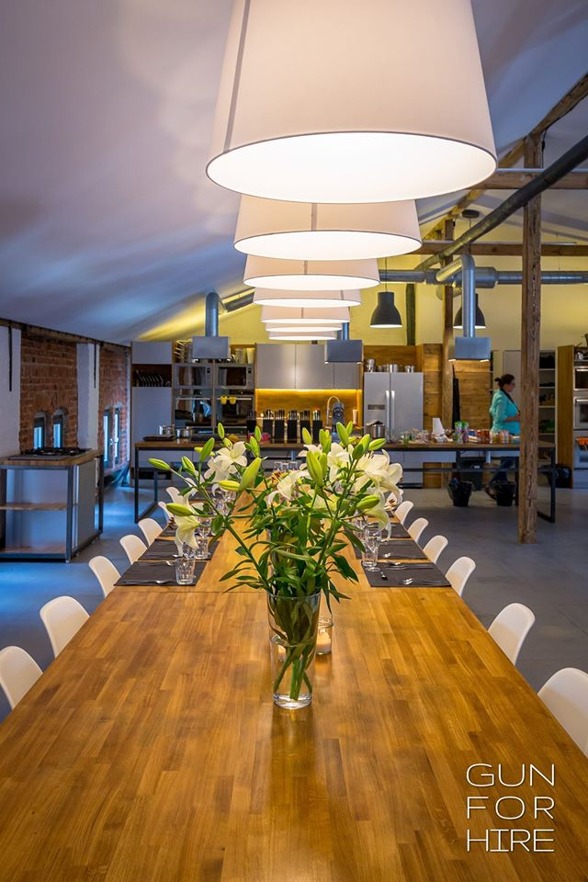 Läs hela inlägget »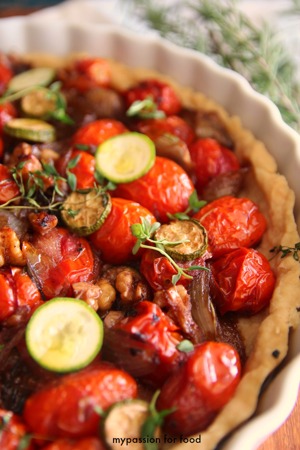 This weekend I managed to go through some of my favorite Polish magazines. One of them is ELLE with new updates about fashion and more! Of course I could not resist trying to do the recipe of Zofia Cudny. Zofia has a blog with the name Makecookingeasier.pl that I can recommend for you! This time she wrote about French Tarta Tatin with cherries tomatoes and caramelized charlotte onions. I modified her recipe and here you have my version of Cherry Tomato Pie with Charlotte Onions and Walnuts. Once I was ready with cooking I started the process of food styling and photograpy! I love this part and it gives me so much joy when things work out. The pie was delicious, the friends were satisfied and I was happy with the photos. Great weekend and great beginning of new exciting week for all of you! Don´t forget to drink some good Rosé wine!

Cherry Tomato Pie with Charlotte Onions and Walnuts

For the dough
220g plain flour
100 g butter
3-4 tablespoons of water

For the filling
500 g ripe cherry tomatoes (if you wish you can mix red and yellow cherry tomatoes – it will give a pleasant colour and more sophisticate taste!)
350 g charlotte onions
50 g cut walnuts
3 tablespoons of brown sugar
50 g butter
2 tablespoons of fresh thyme
3 tablespoons of balsamic vinegar
freshly ground black pepper
sea salt

Dough
First, make the pastry. In a food processor, mix the flour, butter and water. Mix until it comes together in a dough. Remove the dough from the mixer bowl. Wrap in clingfilm and put in the freezer to chill for at least an hour.
On a flat, floured surface, roll the dough with a rolling pin until you get a circle about 40 cm in diameter. Cover the bottom of a 25 cm in diameter baking deep dish, make sure that the sides of the dish are well covered too. Set aside.

Filling:
Melt butter in a heavy based frying pan; add sugar. Allow the sugar to caramelize a little and become a pale golden brown. Add charlotte onion halves and let them fry 10-15 minutes on a low-heat until they become golden brown.
Add the cherry tomatoes, fresh thyme, walnuts and balsamic vinegar and fry it for 10 minutes.
Pre-heat oven to 180 C.
Place cherry tomatoes filling in the form covered with dough. Bake the pie for 30 minutes or until the top is lightly golden brown.
Serve with a crisp green salad and a chilled Rosé wine!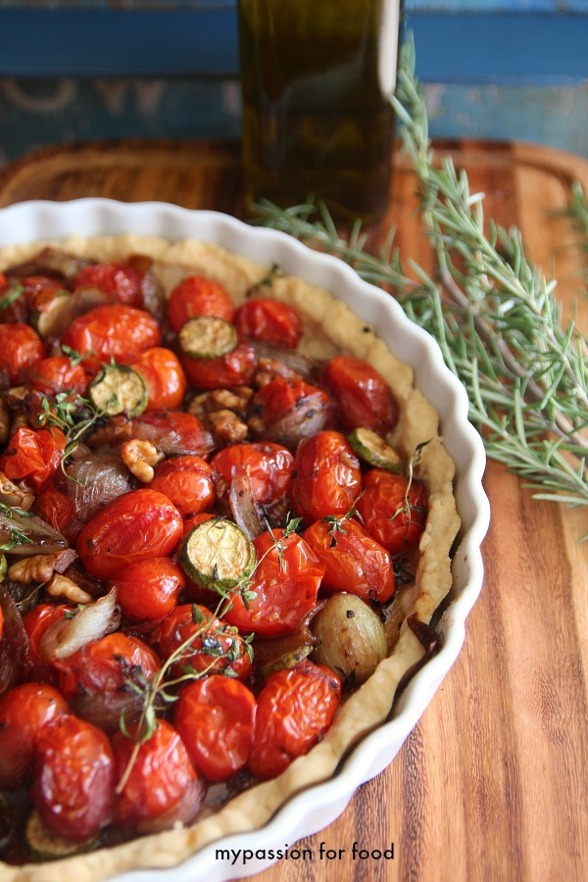 Läs hela inlägget »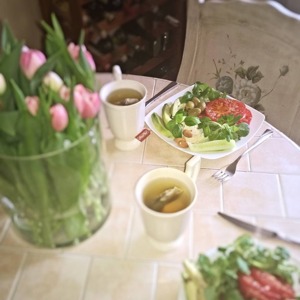 Recently I have been very busy running some private workshops, preparing material to future events, discovering new places and restaurants in Sao Paulo and traveling to Europe. Three weeks ago I went to Europe, Poland to visit my dear friend Anna. It was a very busy and joyful time with lots of cooking, eating good food, drinking wine, girl´s talk and more. Thanks to Anna I even attended my first food photography workshop. In two weeks
I am going to support an even about Swedish Food and Business Culture. I have been invited by Swedcham to take care of the culinary part. This time the event is only for the members of Swedcham. I hope that in the future it is going to be open for the public. Those of you, who would like to join my future workshop, please be patient. After the summer break I will come with a new cooking workshop concept and I really hope you will join me! New recipes will come soon.
Läs hela inlägget »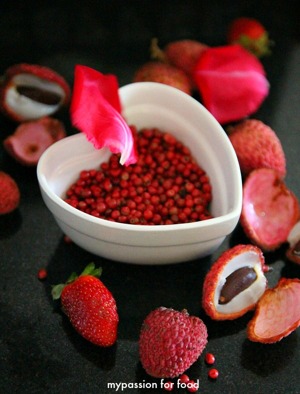 "Each year on February 14th, many people exchange candy, cards, gifts or flowers with their special "valentine." The day of romance we call Valentine's Day is named for a Christian martyr and dates back to the 5th century, but has origins in the Roman holiday Lupercalia". According to History(www.history.com)
62 % of adults in the United States celebrate the holidays. 58 million pounds of chocolate candy are bought during Valenties´s day week. This time I will celebrete Valentine´s day on the beach with my friends drinking delicious Strawberry Coctail with Litchi and Rose peppercorns. I tried it before at the restaurant La Grassa in Sao Paulo and since then I dreamed about doing it by myself. I hope you will like it and can do it for your "valenine". Enjoy and wish all of you lots of love. Thank you Bori for a great time in La Grassa, every time I will drink Strawberry Cocktail I will think about you.

Source: www.history.com

Strawberry Cocktail with Litchi and Rose Peppercorns

2 portions

250 g fresh strawberries
20 fresh litchis
15 rose peppercorns for cocktail
15 rose peppercorns for granish
1 tsp honey
200 ml mineral water

Mix strawberries, litchis, honey, mineral water and 15 rose peppercorns in a blender. Serve up in a glass and garnish with pink peppercorns. If you wish you can add vodka.
Läs hela inlägget »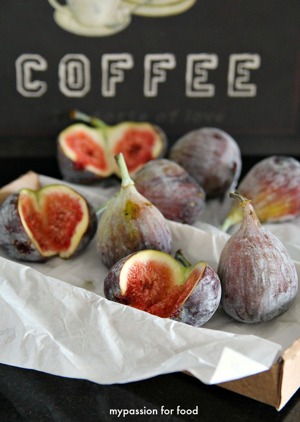 On Sunday morning I went to the local market in Moema, Sao Paulo to buy some fresh fruits and vegetables. Right now it is a season for figs and I could not resist buying some. Some of them we had for breakfast and the rest I plan to bake in the oven. Inspiration to this photo and cooking session I found in two sources: a book of Lotta Lundgren "Om jag var din hemmafru eller hur man får en vardag att smaka som en lördag" (if I was your housewife!) and online photo course done by Todd Porter and Diane Cu where they teach the importance of light.
Lotta´s book is a great source of creative pictures and recipes which differ a bit from the one we are used to see. The photo course I saw online and I felt like I need to experiment with light to learn more and hopefully that the pictures I take will look better.
Baked Figs with Rockford Cheese and Almonds

1/2 dl almonds
1/2 dl honey
8 fresh and mature figs
100 g Rockford cheese

Put the oven into 225 °C. On the frying pan fry almonds until they will be golden brown. Cut the figs in half and move into the baking form. Cut the Rockford cheese into 1 cm pieces and spread it over the figs. Spread the almonds and sprinkle with honey. Put the figs into the oven and leave for 5-10 minutes until the cheese melts. Serve with a port wine.
Läs hela inlägget »
Two weeks ago I moved to Brazil, Sao Paulo ... a great city that you can compare to New York. I really looked forward to move here to explore Brazil, to meet lovely and friendly Brazilian people and of course to explore Brazilian food!!! Give me some time and I will introduce you to the Brazilian food!!!
Grossery shopping is a really nice advanture here... it takes just too much time as I am a bit confused with all new things and with the great choice of vegetables, fruits and meat. Yesterday I discoverd a new shop just a few streets from my flat with vegetables and fruits ... I could not resist figs ... so mature, simple and deliciouse!!! I prepared a simple salad with figs, white cheese rolled in oregano and salami served with lemon and honey dressing.

Od dwóch tygodni mieszkam w Sao Paulo, miasta tętniącego życiem ... bardzo przypominające Nowy York. Czekałam na tą przeprowadzkę z niecierpliwością ... na możliwość lepszego poznania Brazylii, spotkanie jej cudownych i ciepłych mieszkańców no i oczywiście na odkrycie kuchnii brazylijskiej!!
Zakupy w supermarketach są prawdziwą przygodą, zabierają dużo czasu ponieważ wszystko jest nowe a ogromny wybór warzyw, owoców, mięsa nie ułatwia szybkich zakupów / co oczywiście jest frajdą!!! Wczoraj dwie ulice od naszego bloku odkryłam nowy sklep z warzywami i owocami,już z daleko dojrzałam koszyczek z dojrzałymi i pysznymi figami!!! Moja propozycja to zielona sałata w towarzystwie świeżych fig, białego sera i salami podana z cytrynowo- miodowym dressingiem.
1 porcja

2 figi
garść zielonej sałaty
6 plastrów salami
kawałek sera białego, około 60 g
2 łyżki jogurtu bądź śmietany
1 łyżeczka suszonego oregano
2 łyżki miodu
1 łyżka soku z cytryny
swieżo zmielony czarny pieprz

Ser biały rozdrobnić widelcem połączyć z jogurtem, doprawić solą, pieprzem a następnie ukształtować serowe kulki o średnicy ok 2 cm, które należy obtoczyć w oregano. W miseczce wymieszać miód z sokiem z cytryny, doprawic solą i pieprzem. Figi przekroić na ćwiartki. Na zielonej sałacie ułożyć fig, plastry salami oraz kulki z białego sera. Gotową sałatkę polać dressingiem i podawać.