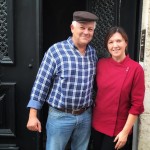 Chef André Magalhães has created Taberna da Rua das Flores a tiny little tavern serving some of the most inspiring and creative cooking in Lisbon. I had the opportunity to work there for two weeks with his great staff and learned more than that I could ever imagine. Together with Chef Bruno I assisted in preparation of more than 50 dishes, asked 1000 questions, learned new flavors and cooking methods as well as I made lots of notes. My journey with Portuguese food had already started in Brazil, São Paulo. I was always dreaming about coming to Portugal and to learn more. Thank you Chef André for giving me that opportunity! Thank you Chef Bruno for your support and all fantastic staff of Taberna da Rua das Flores for such a warm welcome! I admire all of you for your hard and dedicated work and I understand why there is always a queue outside the door to the Taberna.
Two weeks ago I moved to Brazil, Sao Paulo ... a great city that you can compare to New York. I really looked forward to move here to explore Brazil, to meet lovely and friendly Brazilian people and of course to explore Brazilian food!!! Give me some time and I will introduce you to the Brazilian food!!!
Grossery shopping is a really nice advanture here... it takes just too much time as I am a bit confused with all new things and with the great choice of vegetables, fruits and meat. Yesterday I discoverd a new shop just a few streets from my flat with vegetables and fruits ... I could not resist figs ... so mature, simple and deliciouse!!! I prepared a simple salad with figs, white cheese rolled in oregano and salami served with lemon and honey dressing.

Od dwóch tygodni mieszkam w Sao Paulo, miasta tętniącego życiem ... bardzo przypominające Nowy York. Czekałam na tą przeprowadzkę z niecierpliwością ... na możliwość lepszego poznania Brazylii, spotkanie jej cudownych i ciepłych mieszkańców no i oczywiście na odkrycie kuchnii brazylijskiej!!
Zakupy w supermarketach są prawdziwą przygodą, zabierają dużo czasu ponieważ wszystko jest nowe a ogromny wybór warzyw, owoców, mięsa nie ułatwia szybkich zakupów / co oczywiście jest frajdą!!! Wczoraj dwie ulice od naszego bloku odkryłam nowy sklep z warzywami i owocami,już z daleko dojrzałam koszyczek z dojrzałymi i pysznymi figami!!! Moja propozycja to zielona sałata w towarzystwie świeżych fig, białego sera i salami podana z cytrynowo- miodowym dressingiem.
1 porcja

2 figi
garść zielonej sałaty
6 plastrów salami
kawałek sera białego, około 60 g
2 łyżki jogurtu bądź śmietany
1 łyżeczka suszonego oregano
2 łyżki miodu
1 łyżka soku z cytryny
swieżo zmielony czarny pieprz

Ser biały rozdrobnić widelcem połączyć z jogurtem, doprawić solą, pieprzem a następnie ukształtować serowe kulki o średnicy ok 2 cm, które należy obtoczyć w oregano. W miseczce wymieszać miód z sokiem z cytryny, doprawic solą i pieprzem. Figi przekroić na ćwiartki. Na zielonej sałacie ułożyć fig, plastry salami oraz kulki z białego sera. Gotową sałatkę polać dressingiem i podawać.