Saffron Biscotti - Szafranowe Biscotti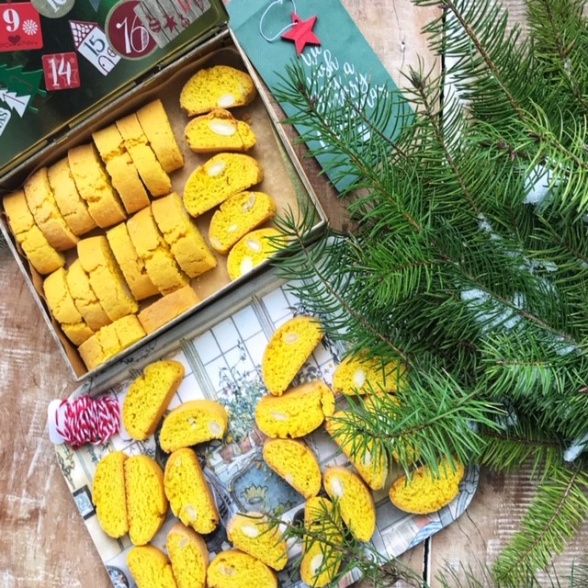 ALMOND SAFFRON BISCOTTI - I always bake them for Christmas and I love to combine them with Glögg - Swedish mulled wine.

Delikatne szafranowe biscotti to jedne z wypieków, które zawsze pojawiają się u mnie na święta. Idealnie komponują się ze szwedzkim grzanym winem glögg oraz z kawą espresso.

Szafranowe Biscotti

Około 35 ciasteczek

75g masło temperatura pokojowa
270g cukier biały
0,5g nitki szafranu
3 średnie jajka
150g słodkich obranych migdałów
420g mąki pszennej
1 łyżeczka proszku do pieczenia
1. W możdzieżu rozetrzyj szafran z 1 łyżką cukru.
2. Ubij masło, cukier i szafran zwykłym mikserem. Gdy składniki dobrze się połączą dodaj stopniwo jajka.
3. Migdały pokrój na średnie kawałki.
4. Mąkę wymieszaj z proszkiem do pieczenia.
5. Stopniowo połącz mąkę z masą, na samym końcu dodaj migdały i połącz składniki łyżką.
6. Ciasto przenieść na posypany mąką blad. Podziel ciasto na dwie części. Z ciasta uformuj dwa bochenki. Bochenki umieść na blasze wyłożonej papierem do pieczenia i lekko je spłaszcz.
7. Wstaw do piekarnika 200 C (dolna część piekarnika)na 30 minut.
8. Wyciągnij ciasto z piekarnika i pozwój żeby ostygło. Zmiejsz temperaturę w piekarniku do 120 C.
9. Pokrój bochenki na plastry 1-2 cm według uznania.
10. Przenieść ciasteczka z powrotem na blasze i włóż ponownie do piekarnika na kolejne 30 minut.
11. Przełóż upieczone biscotti na deskę, po ostudzeniu przełóż do słoika.