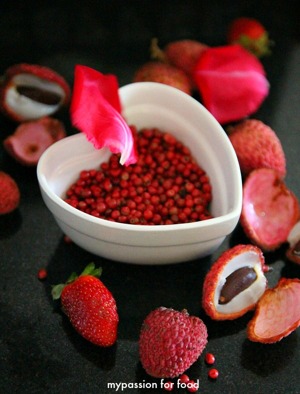 "Each year on February 14th, many people exchange candy, cards, gifts or flowers with their special "valentine." The day of romance we call Valentine's Day is named for a Christian martyr and dates back to the 5th century, but has origins in the Roman holiday Lupercalia". According to History(www.history.com)
62 % of adults in the United States celebrate the holidays. 58 million pounds of chocolate candy are bought during Valenties´s day week. This time I will celebrete Valentine´s day on the beach with my friends drinking delicious Strawberry Coctail with Litchi and Rose peppercorns. I tried it before at the restaurant La Grassa in Sao Paulo and since then I dreamed about doing it by myself. I hope you will like it and can do it for your "valenine". Enjoy and wish all of you lots of love. Thank you Bori for a great time in La Grassa, every time I will drink Strawberry Cocktail I will think about you.

Source: www.history.com

Strawberry Cocktail with Litchi and Rose Peppercorns

2 portions

250 g fresh strawberries
20 fresh litchis
15 rose peppercorns for cocktail
15 rose peppercorns for granish
1 tsp honey
200 ml mineral water

Mix strawberries, litchis, honey, mineral water and 15 rose peppercorns in a blender. Serve up in a glass and garnish with pink peppercorns. If you wish you can add vodka.