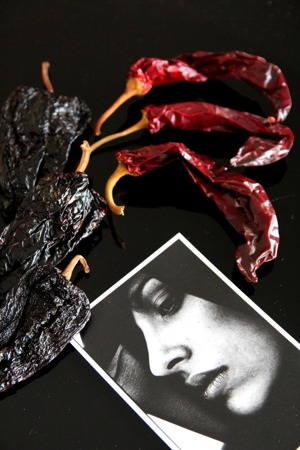 Mexican Cooking Class

Friday morning on my way to the Scandinavian Church in Sao Paulo to run Mexican cooking session. This time Kasia Smith is going to help me and she is going to share her knowledge about Mexican food. We have many dishes which we are going to cook; Chicken Tinga Taco, Vegetarian Encheladas, Salsa Pico de Galo, Homemade Flour Tortillas and we will finish with Mexican Brownies. So exciting!

This is what one of my students wrote about Mexican cooking class "Thanks Agnieszka and Kasia!! We learned a lot! We had a great spicy lunch together and a truly amazing dessert... oh yumm, chilli and chocolate together!!

Here comes some recipes. Have a nice weekend.
10-12 tacos

1,5 kg trimmed, skinless, bone-in chicken thighs
4 tablespoons of olive oil
2 limes
salt and freshly ground black peppar
1 large onion, thinly sliced
6 large garlic cloves, minced
6 tomatoes, cored, peeled and roughly chooped
3-4 tablespoons of chopped chipotle in adobo sauce
2 1/2 cups chicken, beef or vegetable broth
corn or flour tortillas

Toppings

salsa
cabbage
red onion, fresh or pickled
cilantro
sour cream
avocado or quacamole

Mix together olive oil, lime juice and half of the garlic. Add chicken. Season with salt and pepper and let it marinate for an hour.

Heat the olive oil in a large nonstick skillet. Add chicken to the skillet and cook over moderately high heat, turning once, until browned, about 12 minutes. Transfer the chicken to a 9-by-13-inch baking dish and pour of the fat from the skillet.

Add more olive oil to the same skillet, add onion. Cook over moderately high heat, stirring occasionally, until the onion is lightly browned and softened, 5 minutes. Add the garlic and cook until fragrant, 2 minutes. Add the tomatoes, the chipotles and the broth and bring to boil. Simmer over moderate heat, stirring occasionally, until thickened and slightly reduced, 20 minutes.

Preheat the oven 180 C. Transfer sauce to a blender. Puree until smooth and season with salt and peppar. Pour the sauce over the chicken. Bake the chicken uncovered in the center of the oven for about 45 minutes, until the meat is tender and the sauce is very thick and darkened around the edges. If the sauce still appears watery after 45 minutes, take the chicken out and return sauce to the oven for a little bit longer. You do not want to overcook your chicken!

Remove the chicken from the sauce and shred the meat; discard the bones. Return the chicken meat to the sauce and mix well.

Spoon chicken onto each tortilla and garnish the chicken tacos with desirable toppings.

Source:Kasia Smith