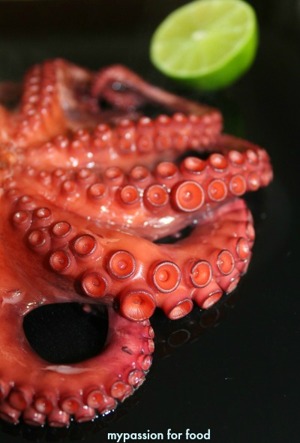 Octopus meat is so delicious and well cooked octopus just melts in your mouth.
The first time I tried this delicacy was in Greece, on the island of Santorini. Sympathetic chef Piotr served an octopus grilled with garlic. When I think about Santorini, I still remember the taste of this dish while the other might associated it with the blue sea!I think about a small tavern, chef Piotr and grilled octopus with garlic.
Since I live in Brazil, Sao Paulo I have the opportunity to buy fresh octopus. Many times I wanted to buy it but
I somehow lacked courage.
A month ago on weekly holiday in Porto de Galinhas, I met a lovely couple from Recife, Salmen and Eliane. It was Salmen who introduced me to the secrets of preparing octopus, which he learned from the local fishermen.
You need to try it by yourself! Salmen, thank you for sharing with me your cooking knowledge!
I hope someday I will join you for lobster fishing!

In Polish

Mięso ośmiornicy należy niewątpliwie do delikatesów, dobrze przygotowane mięso ośmiornicy powinno się rozpływać w ustach.
Pierwszy raz spróbowałam tego przysmaku w Grecji, na wyspie Santorini. Sympatyczny kucharz Piotr zaserwował ośmiornicę grilowaną z czosnkiem. Do dziś pamiętam smak tej potrawy i gdy innym wyspa ta kojarzy się z błękitem morza ja wracam wspomnieniami do małej tawerny, kucharza Piotra i grilowanego przysmaku.
Od kiedy mieszkam w Brazylii, Sao Paulo mam możliwość kupienia świeżej ośmiornicy i wielokrotnie chciałam ją już kupić, ale jakoś brakowało mi odwagi.
Miesiąc temu na tygodniowym urlopie w Porto de Galinhas spotkałam uroczą parę z Recife, Salmen i Eliane.
To właśnie Salmen wprowadził mnie w tajniki przygotowania ośmiornicy, których nauczył sie od lokalnych rybaków. Wypróbujcie sami, naprawdę warto! Dziękuję Salmen, że podzieliłeś się ze mną swoją wiedzą kucharską! Mam nadzieję, że kiedyś wybierzemy się na wspólne łowienie langust!

4 porcje

1 świeża ośmiornica ok. 1 kg
4 ząbki czosnku
1 duża cebula
7 goździków
oliwa z oliwek
sól
pieprz czarny

Nadziej cebulę siedmioma goździkami. Oczyść ośmiornicę, gotuj na małym ogniu pod przykryciem w osolonej wodzie razem z cebulą, ok 45 - 60 minut (cebula powinna być przezroczysta) wtedy mięso ośmiornicy powinno być miękkie. Ugotowaną ośmiornicę wyjąć z garnka i pozostawić do ostygnięcia.

Ostygniętą ośmiornicę pokroić na 1 – 2 cm kawałki.

Podgrzać olikę z oliwek na patelni, dodać drobno posiekane ząbki czosnku, lekko posmażyć a następnie dodać kawałki ośmiornicy. Smażyć przez 5 minut ciągle mieszając.

Gotową potrawę przełożyć na talerz i zaserwować z kawałkiem lemonki.

Do tego dania proponuje wytrawne białe wino z Australii, Mallee Point, Chardonnay.