Spaghetti with Cherry Tomatoes, Buffalo Mozzarella and Bacon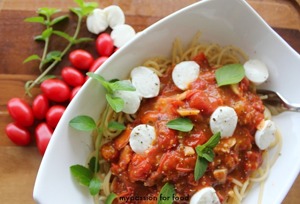 Przygotowanie tej potrawy sprawia mi dużo radości. Po pierwsze potrawa ta pochodzi z programu kulinarnego Leily Lindholm, która zawsze inspiruje mnie do próbowania nowości. Po drugie potrawę tą uwielbia mój syn i bardzo chętnie pomaga mi ją robić, a po trzecie jeszcze nie znalazła się osoba, która by nie polubiła to danie. Danie to jest łatwe i szybkie w przygotowaniu.

In English

I really enjoy cooking this dish because it gives me a lot of joy. Firstly, it comes from cooking program by Leily Lindholm, who always inspires me to try new dishes. Secondly, my son loves it and he is always very happy to help me do it, and finally I do not known anyone who would not like this it. This dish is easy and quick to prepare.
4 porcje

1 kg pomidorków typu cherry
4 ząbki czosnku
2 łyżeczki miodu
2 łyżki masła
oliwka z oliwek
1 łyżka octu winnego
świeżo mielony czarny pieprz, sól
250 g cienkich plastrów boczku
świeża bazylia
2 opakowania mozzarella buffala
spagetti

Podgrzać olikę z oliwek na patelni, dodać drobno posiekane ząbki czosnku. Smażyć przez minutę.

Następnie dodać pokrojone pomidorki typu cherry. Smażyć przez 10 minut ciągle mieszając. Dodać miód, ocet winny, masło, sól i pieprz.

Na drugiej patelni usmażyć boczek aż stanie się chrupiący. Usmażony boczek przełożyć na papier. Ostudzone plastry boczku pokroić na grubszą kostkę i dodać do sosu pomidorowego.

Ugotować makaron typu spagetti. Do sosu pomidorowego dodać spagetti, dobrze wymieszać. Gotową potrawę przełożyć na półmisek i udekorować bazylią i kawałkami mozzarelli buffala.

Teraz tylko brakuje Wam dobrego włoskiego wina!